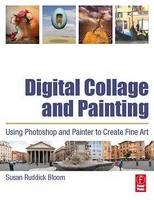 Sue currently has three books on the market. They are:
Sue's book, Digital Collage and Painting, Using Photoshop and Painter to Create Fine Art, was released by Focal Press in June 2006 to critical acclaim. The 608 page book is the premier book on this topic, giving clear step-by-step instructions and inspiration. The book may be purchased through Focal Press, Waldenbooks, Barnes & Noble, Borders and at http://www.amazon.com.
This book has been translated into Chinese and Russian and is sold worldwide.
An updated second edition was released in late October 2010.
Digital Painting in Photoshop, by Focal Press, was published February 2009.
Books can be purchased at local bookstores, Barnes & Noble branches, Amazon.com, and from focalpress.com. They are available in printed form and as ebooks.