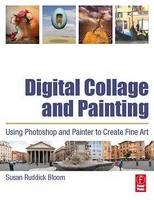 Susan Ruddick Bloom is known for her fine art photography. She uses alternative photographic processes and digital manipulation. Sue has been involved in making art on the computer for over thirty-six years. She holds a BFA and an MFA from the Maryland Institute College of Art. She is Professor Emerita and former Chair of the Department of Art and Art History at McDaniel College, in Westminster, Maryland.
Her work spans the range of digital techniques. Recently that includes iPad and iPhone art. A new gallery of iPad and iPhone artwork will be coming soon to this site. She is always experimenting with techniques and materials in an effort to make meaningful marks. She is considered one of the world leaders in digital fine art.
In addition to her college teaching, Sue conducts many workshops, including the Maine Photographic Workshop, Palm Beach Photographic Centre, Glen Echo National Park for the Arts, and Common Ground - Scotland. She also leads photo tours throughout the world.
Sue's book, Digital Collage and Painting, by Focal Press, was released June 1, 2006. It can be found at your local bookstore or Amazon.com. Digital Collage and Painting has been translated in Chinese and Russian. A second edition of the book was released in October 2010. The second edition contains many new techniques, reflects changes in software and features the work of twenty new digital artists.
Sue's book, Digital Painting in Photoshop, by Focal Press, was released in February 2009, and shows techniques, within Photoshop, that mimic the traditional fine art mediums like pastels, watercolors, oil painting, charcoal sketches and ink wash techniques.
Sue also writes for numerous magazines and is a staff writer at the Australian quarterly, Better Photoshop Techniques. She is a contributor to Dark Glass Media.
Sue's webcasts can be found at ReTouchPro.com and are available for rental from YouTube.